Welcome to Study Campus, a best-in-all source to get solutions to all your queries mating a wide variety of entrance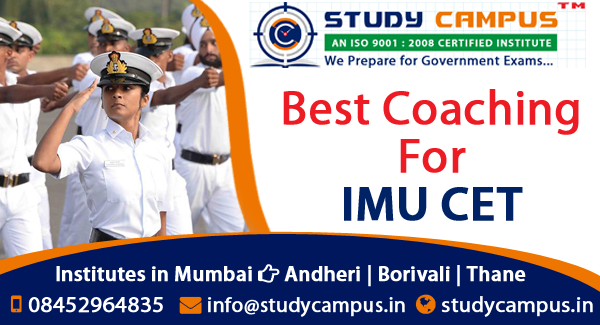 exams. We offer Online IMU-CET coaching classes and direct the students to explore the most fascinating field of Merchant Navy. We provide professional assistance to the students applying for various courses offered by Indian Maritime University (IMU) to the students looking for prospective career choice in Merchant Navy.
Our best preparatory books and interactive study material will guide the students in entailing the best preparatory guidance for their likeable course that let them explore the robust and challenging aura of Merchant Navy. Our IMU CET coaching classes in Mumbai (Andheri, Borivali and Thane areas) leads the students through proficient guidance by the experts and best learning prospects to acquire them an edge over the others in terms of reaching on the top and most secured position in their life.
What is IMU CET?
IMU-CET is the very first step that leads the aspiring candidates to explore the vibrant world of Indian Maritime University that takes them to the large world of some recognized career opportunities. It is the entrance exam conducted to select the most eligible candidates to acquire graduate or post graduate courses at IMU that turns them into the most eligible professional to serve Merchant Navy.
With coaching classes for IMU-CET in Mumbai, students can find the easy and sure shot way to explore the nautical sector of the country. The target of the classes is to scrutinize the perfect candidature to suit the educational aura of the Indian Maritime University.
IMU-CET 2023 Important Dates:
| | |
| --- | --- |
| Event | Exam Date (Tentative) |
| Released Notification | 4th week of March 2023 |
| Online Application out | 4th week of March 2023 |
| Last Date of Application | 4th week of May 2023 |
| Admit Card | 4th week of May 2023 |
| Exam Date | 2nd week of June 2023 |
| Result | 3rd week of June 2023 |
| Counseling | 4th week of June 2023 |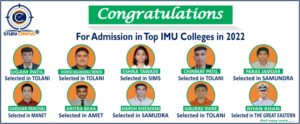 IMU-CET Application Form and Process:
IMU-CET Process
The application process of IMUCET and its affiliated institutes is online only. The fee was to be paid online.
The fee for IMUCET was INR 1000/- for general candidates and INR 700/- for SC/ST category students.
Aspirants were required to upload the following documents while applying online for the exam:
Scanned copy of the passport size photograph.
Scanned copy of the signature of the candidate.
Scanned copy of 10th Standard Certificate or equivalent in support of Date of Birth
Community Certificate in respect of SC/ST candidates
Pattern:
After uploading the above documents, aspirants were able to download and print the filled-in application in standard formats.
The Syllabus for CET for UG programmes will be:
* Physics, Mathematics, Chemistry, English, General Knowledge and Aptitude at Plus 2 level (CBSE, ISE, and State Boards).
The Syllabus for the CET for the 2 MBA programmes will be as follows:
* Quantitative ability, Data Interpretation, Verbal Ability and Logical Reasoning.
The Syllabus for the CET for the 2 MTech programmes will be as follows:
* English, General Knowledge, Aptitude, Mathematics and General Engineering
Eligibility Criteria For IMU CET:
To get enrolled in the exciting course in IMU, the student needs to clear the common entrance exam that asks for some critical eligibility requirements on part of the student. They are:
For  Diploma In Nautical Science –  Candidates Must Have Completed 12th Or Equivalent Education From A Recognized Board Or University With  60% Marks Accompanied By Physics, chemistry, mathematics And 50% In English Subject.
For B.E/B. Tech: Candidate must carry an IIT degree from any recognized college of AICTE with minimum 50% marks. Also, 50% marks in English is compulsory.
For B. Sc (Nautical science, Maritime Science and ship building & repair): Candidate must have cleared 10+2 or equivalent education with 60% marks in Physics, Chemistry and Mathematics and about 50% marks in English.
For 4-year B. Tech (Ocean engineering and Naval architecture): Student must have complete 12th or equivalent education from a recognized board or university with 60% marks in Physics, Chemistry and Mathematics and around 50% marks in English.
For 2-Year M. Tech (Naval Architecture and Ocean Engineering): Candidate must have completed graduation degree in engineering (Civil, Marine, Naval, and Aeronautical) or any equivalent education with 60% marks in total.
For 2-Year MBA (Port & Shipping Management):  Candidate must have acquired a graduation degree in any discipline with a minimum of 50% marks in total. (SC/ST students can expect the reservation).
For 2-Year MBA (International Transportation & Logistics Management): Candidate must have completed a bachelor's degree in any discipline from a recognized university with 50% marks
IMU CET 2022 Exam Pattern
*The IMU CET  will be conducted as Computer Based Test across 34 exam centres in India.
*The Syllabus of IMU CET will consist of subjects such as Mathematics, Physics, Chemistry, English, General Knowledge and General Aptitude.
*The questions will of Multiple Choice Type and the marks distribution for each section in the paper is as follows:
Sl. No.   Subjects of IMU CET   Marks distribution for each section
1            Mathematics                                                               50
2            Physics                                                                         50
3            Chemistry                                                                    25
4            General Knowledge                                                    25
5            General Aptitude                                                        25
6            English                                                                           25
For each correct answer, candidates will be awarded 1 mark. However, there will be no negative marking for incorrect or unanswered questions.
EXAM PATTERN
IMPORTANT TOPICS OF PHYSICS
GRAVITATION
THERMODYNAMICS
ELECTRO-MAGNETIC INDUCTION
MODERN PHYSICS
SIMPLE HARMONIC MOTION
ROTATIONAL MOTION
LAWS OF MOTION
CURRENT ELECTRICITY
WORK , ENERGY, POWER
MAGNETIC EFFECT OF ELECTRIC CURRENT
MATTER PROPERTIES
IMPORTANT TOPICS FOR CHEMISTRY
ALCOHOLS, PHENOLS AND ETHERS
P-BLOCK ELEMENTS
ATOMIC STRUCTURE
GASEOUS STATE
F-BLOCK ELEMENTS
S-BLOCK ELEMENTS
ORGANIC CHEMISTRY
ALDEHYDES AND KETONES
THERMODYNAMICS
CHEMICAL KINETICS AND CHEMICAL EQUILIBRIUM
IMPORTANTTOPICS OF MATHS
MATRICES AND THEIR APPLICATIONS
TRIGONOMETRY AND COMPLEX NUMBERS
TWO DIMENSIONAL GEOMETRY
THREE DIMENSIONAL GEOMETRY
CIRCLES AND FAMILY OF CIRCLES
SEQUENCE AND SERIES
APPLICATION OF DERIVATIVE
LIMIT AND CONTINUITY
DETERMINANTS
VECTOR ALGEBRA
INTEGRATION
SETS, RELATIONS AND FUNCTIOS
THEORY OF EQUATIONS
PROBABILITY
IMPORTANTTOPICS OF ENGLISH
SYNONYMS
ANTONYMS
FIGURE FORMATION AND ANALYSIS
SENTENCE COMLETION
ONE WORD SUBSTITUTION
CLAUSE
GRAMMER
MODEL AUXILLARIES
GENERAL KNOWLEDGE QUETIONS WOULD BE BASED ON CURRENT AFFAIRS AND POPULAR AFFAIRS IN THE PAST
IMU CET 2018(June) Paper Analysis
Given below is the detailed paper analysis of the examination on the basis of the reviews of students.
IMU CET was divided into 6 sections.
DNS  Aspirants were tested on the basis of their knowledge in Physics, Chemistry, Mathematics, English, General Knowledge and General Aptitude.
The subject wise distributions of number of questions in each section is as follows:
| | |
| --- | --- |
| SECTION | NO. OF QUESTIONS |
| PHYSICS | 50 |
| CHEMISTRY | 25 |
| MATHS | 50 |
| ENGLISH | 25 |
| GENERAL KNOWLEDGE | 25 |
| APTITUDE | 25 |
SECTION A: PHYSICS
Physics section was moderate with 50 questions in total. Questions were not much time consuming but were a little tricky. It consisted of questions related to:
4 QUESTIONS ON NUCLEAR PHYSICS
5 QUESTIONS ON ENERGY AND POWER
7 QUESTIONS ON ELECTROSTATICS
5 QUESTIONS ON PROPERTIES OF MATTER
9 QUESTIONS ON LAWS OF MOTION AND WORK
7 QUESTIONS ON SEMICONDUCTOR DEVICES
8 QUESTIONS ON CURRENT ELECTRICITY
5 QUESTIONS ON MAGNETIC EFFECTS
SECTION B: CHEMISTRY
In chemistry 25 questions were in total with a moderate difficulty level. Questions were time consuming this time. Topics included in this section were:
5 QUESTIONS ON ELECTROCHEMISTRY
3 QUESTIONS ON THERMODYNAMICS
6 QUESTIONS ON CARBONYL COMPOUNDS
3 QUESTIONS ON ATOMIC STRUCTURE
4 QUESTIONS ON CARBOXYLIC ACIDS
4 QUESTIONS ON CHEMICAL EQUILIBRIUM
SECTION C: MATHEMATICS
Questions in mathematics took up most of the time of the students therefore this section was considered by the students more difficult. In total, it had 50 questions. The questions asked in mathematics were from the following topics:
3 QUESTIONS ON MATRICES
9 QUESTIONS ON TRIGONOMETRY
7 QUESTIONS ON VECTOR ALGEBRA
3 QUESTIONS ON DIFFERENTIAL CALCULUS
5 QUESTIONS ON DIFFERENTIAL EQUATIONS
6 QUESTIONS ON PROBABILITY DISTRIBUTIONS
4 QUESTIONS ON INTEGRAL CALCULUS
6 QUESTIONS ON DISCRETE MATHEMATICS
7 QUESTIONS ON SERIES COMPLETION
SECTION D: ENGLISH
As usual this section was marked easiest by the students. It was very less time consuming. 25 Questions were asked in this section.
2 QUESTIONS ON PASSAGE COMPLETION
7 QUESTIONS ON ERROR CORRECTION
8 QUESTIONS ON CLOZE TEST
8 QUESTIONS ON COMPREHENSION PASSAGE I.E. 2 PASSAGES WITH 4 QUESTIONS EACH.
SECTION E: GENERAL KNOWLEDGE
The topic of General Knowledge is designed to test the General Awareness of the aspirants. So the questions in this section were mainly from:
5 QUESTIONS ON BUSINESS NEWS
4 QUESTIONS ON INTERNATIONAL NEWS
8 QUESTIONS ON NATIONAL NEWS ETC
SECTION F: APTITUDE
This section is designed to check the logic and presence of mind of the students. This section can be scored better with the help of logic and quicker methods. The questions were as below:
5 QUESTIONS ON SERIES COMPLETION
3 QUESTIONS ON BLOOD RELATIONS
4 QUESTIONS ON DIRECTIONS
5 QUESTIONS ON PUZZLES
4 QUESTIONS ON DATA SUFFICIENC
4 QUESTIONS ON ARRANGEMENTS
Why choose us?
Candidate can choose our best coaching classes for IMU-CET in Mumbai for the following reasons:
We employ excellent faculty and experienced staff to counter the recurring doubts of the students pertaining the entrance exam.
We carry the highest success track record with maximum number of students have become eligible for one or the other courses of IMU.
Our study material is prepared using the experts advices mated with practice papers based on previous years question papers and latest syllabus.
We carved a niche in employing the best teaching methodology in making the students achieve their targeted goal of gaining admission in their desired course.
Top IMU-CET coaching classes in Mumbai:
We at Study Campus are indulged in surpassing an optimal delivery in terms of quality guidance to the students appearing for the common entrance exam. We deploy comprehensive study pattern that covers every topic related to the exam. We ensure complete coverage of the syllabus within the stipulated time.
✅ How can I get admission in IMU Mumbai?
All the candidates who wish to join IMU Mumbai have to sit for the IMU CET examination. After qualifying the examination, the candidates who clear the cut off are granted admission. For M.Sc and MBA courses, candidates should at least have 50 % marks in their graduation while the admission of BBA is done solely on the basis of marks obtained in the qualifying examination.
✅ How many times can I give IMU CET?
There are no limitations on the number of attempts a candidate can sit for the IMU CET examination. The upper age limit for the examination is 25 years, which means a candidate who is more than 25 years are not eligible for the examination.
✅ Is IMU a government college?
Yes, IMU or Indian Maritime University is a government university. It was established in 2008 and is headquartered in Chennai.
✅ What should I study for CET IMU?
There is a separate syllabus for separate courses. Get thorough with the syllabus. Study all the topics and attempt as many mock tests as possible. You can also join Study Campus that has an excellent faculty for IMU CET.
✅ What are the fees of IMU?
IMU mainly conducts four courses whose fee structure is different from each other. For Bachelors of Technology ( 4 years course), the fee goes up to INR 9,00,000; Bachelors of Business Administration (3 years), the fee is INR 3,00,000; for Masters in Business Administration (2 years), it is INR 4,00,000; Bachelors of Science (3 years) costs around INR 7,50,000 and Diploma courses costs up to INR 2,00,000.
✅ How do I qualify for IMU CET?
Study the chapters of the syllabus well and attempt a mock every day. If you clear the cut off, you will be able to qualify the examination. You can also join Study Campus for expert guidance and suggestions.
✅ Is IMU CET conducted twice?
This examination is conducted for admission to several Marine or Merchant Navy Approved courses. The examination is conducted twice a year in the month of December and June.
✅ How many seats are there in IMU?
There are 966 seats in total in the 5 IMU campuses. There are 300 seats for B.Sc, 366 seats for B.Tech, 80 for Diploma for Nautical Science, 40 seats for Maritime Science, 40 for Ocean Engineering, 100 for BBA, etc.
✅ Which book is best for IMU CET?
Some of the best books for IMU CET are – IMU CET –Gateway To  Maritime Education Paperback by Subodh Kumar; IMU CET 2020 question bank with sponsorship guide by 2IMU; IMU-CET 2020 Exam Guide; IMU CET Complete Syllabus Theory Book (Revised and updated edition) by Subodh Juyal.
✅ What is the syllabus for IMU CET?
You can refer to the chapters of class 12th for Physics, Chemistry, and Mathematics. For English, practice reading comprehension, phrasal verbs, parts of speech, advanced writing skills, General Aptitude – Numerical Aptitude, Data interpretation, abstract reasoning, company information. Also, stay up to date with all the current affairs.
Our IMU CET Institute in Mumbai (Andheri & Borivali) and Thane Maharashtra:
ANDHERI CENTRE
407/B, Vertex Vikas Building,
Metro Gate Exit # 4,
Above Anupam Stationery,
Andheri (East). Mumbai : 400069
Mobile No. – 77-0000-88-50
Phone No. – 022-4123-766
BORIVALI CENTRE
Office No. 04, D Wing,
3rd Floor, GoraGandhi Apartment,
Above Gora Gandhi Hotel, Chandavarkar Lane,
Opposite Borivali (W) Railway Station
Mobile No. – 84-5292-38-35
Phone No. – 022-4123-766
THANE CENTRE
401 & 2, Fourth Floor, Krishna Plaza,
Above Krishna Sweets,
Shivaji Path, Opposite Thane
Railway Station (W) 400601
Mobile No. – 79-0000-50-77
Phone No. – 022-4123-766