Welcome to Study Campus, the well established learning institute that offers CLAT Coaching Classes in Andheri Mumbai and guide the aspiring professionals to secure a challenging career in the stream of Law. Our learning program entails into bringing the right career prospective in front of the students while preparing them for the challenging career opportunity of the season, i.e. Law.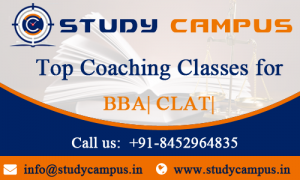 Today, Law has become the most talked after career that is offering the coming generation with most lucrative careers opportunities that will help them in attaining a respected and secure future ahead. In this regard, CLAT (Common Law Admission test) tutorial in Andheri Mumbai is conducted in order to provide the aspirants with the entrance platform that will help the students in gaining and edge over the different law programs run by various colleges and universities of NLU.
Being the most prestigious learning centre, Study Campus is located in the proximal location of Andheri carrying easy accessing by the students residing in J B Nagar, Sahar village and nearby area to acquire relevant knowledge to beat the heat of the entrance exam of CLAT. Our personalized coaching program encompasses the learning module molded with guidance imparted by our experienced faculty helps the students in getting clearance in the entrance examination and gaining an edge over the tough competitive era.