Welcome to Study Campus, a pioneer in offering quality education incentives to the students appearing for different undergraduate courses carrying potential to bring the most eligible management candidates. We offer BBA/BMS/BHM coaching classes in Mumbai enthralling the most crucial part of clearing the entrance exam. We initiate the primary level of learning for the students who want to explore the vibrant world of management courses.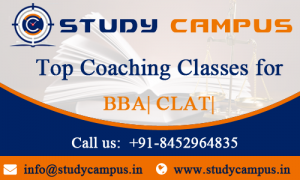 NPAT BBA Important Exam Dates:
| | |
| --- | --- |
| Event  | Exam Date |
| Notification | 23 December 2021 |
| Online Application | 23 December 2021 |
| Last Date of Application | 20 June 2022 |
| Admit Card | Immediately after scheduling the exam |
| Exam Date | 1 April 2022 to 26 June 2022 |
| Merit List | 15 July 2022 onwards |
| Counseling | 15 July 2022 onwards |
With our BBA/BMS/BHM coaching institute in Mumbai, students can find the sure shot way to clear the different entrance exams propounded to select the best candidates by various colleges. We cover a detailed program for guiding the students in acquiring success in the entrance exams so that they can choose the best course.
What is BBA/BMS/Hotel Management?
BBA (Bachelor of Business Administration)- is the degree designed to give the candidate the foremost knowledge about a company's business culture. Under this program, students get to learn about the basic functionalities of a business like accounting, financial management, and marketing and human resource management. The entrance to BBA will lead the students in exploring the vast scenario of most functional areas propounded by a business firm or company.
BMS (Bachelor of Management Studies)- is another undergraduate program that is designed to give the students and overview of the managerial abilities required in a company. This course is taken by many of students who want to pursue higher studies in managerial activities in future. Its entrance exam will give the students a chance to specialize in their favorite field in their chosen college.
BHM (Bachelor of Hotel Management)- is the program designed to impart complete knowledge about the hospitality industry to the candidate. The program combines both academic and practical learning that will depart a great scope of career to the aspiring candidate. Its entrance exam will helps the students in acquiring a seat in some top notch universities. Join Study Campus for top and result oriented Hotel Management Entrance Coaching in Mumbai, Maharashtra.
With our coaching classes for BBA/BMS/BHM in Mumbai, students can find the way to explore the world of managerial studies through admission in their targeted program and destined college.
Eligibility Criteria For BBA/BMS/BHM:
Eligibility criteria for students applying for BBA/BMS/BHM lands on the track asking that a candidate must have accomplished success in 12th stream from a recognized board or university, with a minimum of 50-60% marks. However, selection to any particular college and course depends upon the criteria settled down by the respective college.
Nature of Examination:
Objective type test with multiple-choice answers. The Exam includes questions form the following areas General and Business Awareness, Quantitative Aptitude, Reasoning Ability, English Proficiency.
BBA Entrance Exam Pattern:
| | |
| --- | --- |
| SECTION | WEIGHTAGE OF SECTION |
| Aptitude relating to the field of Management and for Communication Skills | 25 per cent |
| Logical and Analytical Ability | 25 per cent |
| General Awareness | 25 per cent |
| English Language & Comprehension | 25 per cent |
Selection Process
If the candidate chooses to pursue the course through correspondence then there no selection process, except being eligible for the course.
The admission through Entrance Exam culminates into a final evaluation of the candidate on the basis of following:
| Criteria | Weight (%) |
| --- | --- |
| Qualifying Examination | 50 |
| Entrance Test | 40 |
| G.D. & P.I | 10 |
Why choose us?
You can choose our best BBA/BMS/BHM coaching classes in Mumbai for the following reasons:
We deliver high-quality study material loaded with periodic practice sessions that will let the students gain something extra to deliver at the examination point.
We own a highly qualified team of teachers and mentors who impart quality guidance with necessary tips and tricks that will let the students achieve the success in their targeted goal.
We prepare customized solutions for the students keeping in mind their specific entrance exam target.
Our unique methodology and well-researched study module helps the students in clearing off every doubt, they strike with.
Top coaching classes for BBA/BMS/BHM in Mumbai (Andheri & Borivali) and Thane, Maharashtra, India:
Study Campus is the leading and premier BBA/BMS/BHM coaching institute in Mumbai offering quality education incentives to the aspiring candidates looking for a prospective career opportunity in the managerial courses. We carry 99% success rate in offering high quality and interactive teaching module and necessary assistance to the students.
Our BBA Coaching in Andheri, Borivali and Thane location:
ANDHERI CENTRE
407/B, Vertex Vikas Building,
Metro Gate Exit # 4,
Above Anupam Stationery,
Andheri (East). Mumbai : 400069
Mobile No. – 77-0000-88-50
BORIVALI CENTRE
Office No. 04, D Wing,
3rd Floor, Gora Gandhi Apartment,
Above Gora Gandhi Hotel, Chandavarkar Lane,
Opposite Borivali (W) Railway Station
Mobile No. – 99-304766-36
THANE CENTRE
401 & 2, Fourth Floor, Krishna Plaza,
Above Krishna Sweets,
Shivaji Path, Opposite Thane
Railway Station (W) 400601
Mobile No. – 79-0000-50-77