Welcome to Study Campus, the best place to get complete career guidance on a wide variety of competitive exams. We offer IBPS clerk coaching classes in Mumbai and get the students prepare everything from basic to main course concepts to apply them effectively in gaining an edge over others in the clerical exam conducted by IBPS.
We follow every attempt to raise student's confidence with the help of trained faculty and interactive teaching program at our IBPS clerk coaching institute in Mumbai and helps in delivering a talented team of applicants to the banking sector.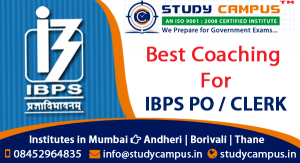 What is IBPS Clerk?
IBPS (Institute of Banking Personnel Selection) conducts the clerical exam to select the talented professionals of our country to serve the challenging post of clerk in the most respective banks. The post of clerk asks for responsible aptitude towards the designation in collaboration with dedication and hard work.
Our coaching classes for IBPS clerk in Mumbai will let the students grab a respectable position in the government sector.
Eligibility Criteria For IBPS Clerk:
Applicants applying for the clerical post dignified by IBPS must comply with the following eligibility requirements:
Age: candidate should have the age between 20-28 years.
Nationality: Should be an Indian citizen.
Educational qualification: Candidate must have completed graduation degree or equivalent education from a recognized board or university. Also, he/she must have computer diploma/ certificate/degree and he/she must carry proficiency in reading and writing the official language of the state for which the application has been made.
Why choose us?
We are the premier institute offering high quality education tutorials to the students looking for a career growth in the banking sector.
We follow latest exam patterns and guide the students accordingly in combination with the mock test and live classes' type features.
Top coaching classes for IBPS clerk in Mumbai:
Study Campus offers coaching additives seeking to provide an interactive platform to the students appearing for clerical posts in various banks of the country. We offer frequent practice sessions along with high quality guidance by the specialist to help you in achieving your aim to get good result in the final exam.
Join Our IBPS Clerk Coaching in Mumbai (Andheri, Borivali and Thane location) for top result.
ANDHERI CENTRE
407/B, Vertex Vikas Building,
Metro Gate Exit # 4,
Above Anupam Stationery,
Andheri (East). Mumbai : 400069
Mobile No. – 99-30-47-66-36
Phone No. – 022-4123-7666
BORIVALI CENTRE
Office No. 04, D Wing,
3rd Floor, GoraGandhi Apartment,
Above Gora Gandhi Hotel, Chandavarkar Lane,
Opposite Borivali (W) Railway Station
Mobile No. – 98-92-91-97-60
Phone No. – 022-4123-7666
THANE CENTRE
401 & 2, Fourth Floor, Krishna Plaza,
Above Krishna Sweets, Jan Kalyan
Bank, Next to Ganesh Tower,
Shivaji Path, Opposite Thane
Railway Station (W) 400601
Mobile No. – 99-30-47-66-94
Phone No. – 022-4123-7666