Welcome to Study Campus, the best name in the field of achieving premium career guidance for the aspirants showing up for various competitive examinations. Here, we offer Offline & Online Coaching Classes for BBA in Thane and prepares the candidates to turn into an asset of the developing industrial world.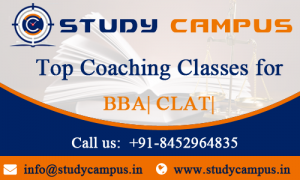 What is BBA?
This course is pursued mostly after class 12.
It is a three-year course programme.
Students of any stream are he or she from arts, commerce or science can choose this career option.
Most of the colleges demand a minimum of 50% marks in their higher secondary examination.
Those candidates who are waiting for their results and have not received it yet can also apply for the course.
Why Study Campus?
BBA (Bachelor of Business Administration) is the door towards a splendid profession in the realm of business. We manage the students all through their placement tests and set them up with the vital tips and tricks that empower them to make a great score in the exam.
BBA coaching in Thane not just progresses in the direction of improving the academic performance of the students through our well-inquired about instructional exercises but also help in improving their general characters.
We help at building up a good vocation way for the candidates and guide them with their approach to turn into a professional.
We deal with overcoming any doubts between the study materials and their vocation objective with the correct blend of instruction added substances and training classes.
Thane, Mumbai is the most well-known centre point for best and aggressive assessment, all over the country. The teaching process is always result-oriented.
Study Campus's BBA coaching in Thane is a driving name in the field of BBA coaching classes in Thane, Mumbai. Join our crash course or ordinary BBA course and accomplish your objective very soon.
These features have surely assured you that Study Campus is the best coaching institute for such competitive examinations. We also help you to choose the best college for the respective courses which you desire to opt for.
Join Classrooms or Online BBA Entrance Coaching Classes in Thane (Maharashtra) and Mumbai.
THANE CENTRE (Maharashtra) for BBA Entrance Coaching Classes
401 & 2, Fourth Floor, Krishna Plaza,
Above Krishna Sweets, Jan Kalyan
Bank, Next to Ganesh Tower,
Shivaji Path, Opposite Thane
Railway Station (W) 400601
Mobile No. – 79-0000-50-77
Phone No. –  022-41237666