Students planning to have a lucrative career in the field of management often try their best to get admission in their desired BBA program offered by an elite university. Every university has a limited number of seats and conducts the BBA entrance examination to admit the deserving candidates only. Our coaching institute holds a record of preparing the maximum number of successful candidates, so you can always trust our result-oriented teaching methods.
BBA Course Highlights
Find Below Some of the major highlights of BBA course:
| | |
| --- | --- |
| Course Level | Undergraduate |
| Course Duration | 3 years |
| Eligibility | 10+2 from a recognized educational board |
| Examination type | Semester |
| Admission Process | Based on BBA Entrance exam |
| Top Recruiting Companies | IBM, HP, ICICI Bank, Mc Kinsey and Company, Microsoft, Sony, Deloitte others |
| Job Positions | Business Development Executive, Financial Analyst, Data Analyst, Operations team leader, Business Consultant, etc. |
We have trained and experienced teachers that have been preparing management students for years. With their diligently crafted tutorial on each module, you are sure to excel in the upcoming BBA examination. Our BBA entrance coaching in Delhi near Munirka not only prepares students for the written examination but also gives due attention to improve their soft skills. Whether you want to pursue your BBA program taking Finance, Marketing, Logistics, Operation or Human resource as the core subject, our coaching classes will help you throughout.
Details about BBA Entrance Exam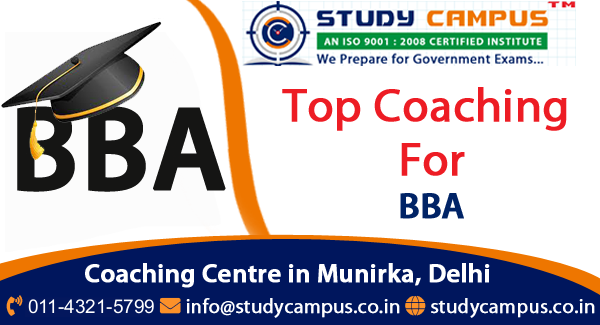 BBA is a 3-year long undergraduate course that teaches students the basics of business management. This course equips BBA students with the right skill set and knowledge necessary to excel in the management field. India has many elite BBA colleges, but the number of seats it offers is limited. It is why most of the reputed colleges organize the BBA entrance examination to select the best BBA aspirants from the herd. Our BBA entrance coaching in Delhi has prepared thousands of BBA aspirants that are today studying in their favorite BBA college.
Join Study Campus in South Delhi (Munirka) the leading and Top BBA Entrance Coaching Classes in Delhi, Result Oriented BBA Coaching Institute with Top Facilities like  ✓ Regular Test Series ✓ Very Experienced Teachers ✓ Affordable Fees ✓ Flexible Payment Facility ✓ Good Study Materials/Books ✓ Mock Test ✓ FREE Library Access and many other advance Facilities.
Eligibility criteria, marking scheme, exam pattern, and syllabus
To appear for any BBA entrance examination, a candidate must have cleared its 10+2 with a minimum of 50%. The marking scheme, syllabus, and exam pattern will vary from one BBA college to another, so it is important that the BBA aspirants check it properly before applying for a particular college or university. DU JAT, NPAT BBA, IPMAT, GGSIPU CET BBA, and SET BBA are among the top entrance BBA tests for undergraduate-level management programs. However, all the BBA colleges assess candidates on English, Quantitative Aptitude, General Awareness, and Analytical Reasoning.
Located in South Delhi, our BBA coaching institute is considered to be the best BBA coaching in Delhi, Munirka by our students. We receive several inquiries for our BBA course (BBA Crash Course & BBA Full Course)  from different areas of Delhi including the Hauz Khas Near IIT, JNU, Saket, R K Puram, Vasant Vihar, Vasant Kunj, Ber Sarai, Malviya Nagar, Moti Bagh, and many other areas as well.
Scope after BBA Course:
Joining a professional course without knowing its scope is like throwing the darts in the dark. BBA graduates get a lot of job opportunities across different sectors. However, the scope of getting a good job is multiplied when a BBA graduate completes his MBA too. Financial Analyst, Marketing Executive, SAP Consultant, and Operations Team Leader are some of the designations on which you can be hired on.
Why is Choose Study Campus Coaching for BBA Entrance?
Ranked among the top BBA coaching institutes in Delhi, we are known to prepare the leaders of tomorrow. You can join us for the following reasons:
✅ Timely syllabus completion
✅ Series of evaluation tests online and offline
✅ Doubt clearing sessions for every student
✅ Extended student support
✅ High success rate and much more
✅ Fewer students in each batch
✅ Comprehensive study materials and books
Study Campus in New Delhi is the best place for the preparation of BBA Entrance Coaching Classes in South Delhi (Offline & Online).
For your reference, the exam pattern of DU JAT has been shared below.
DU JAT Exam Pattern:
S.No.

Test

Questions

1

Quantitative Ability

25

2

Reasoning and Analytical Ability

25

3

General English

25

4

Business and General Awareness

25

Total number of questions

100
Our Top BBA Entrance Coaching Center in Munirka, Delhi offers following courses:
1️⃣ BBA Entrance Foundation Course in Delhi (Duration 12 months)
2️⃣ BBA Entrance Full Course in Delhi (Duration 6+ months)
3️⃣ BBA Entrance Crash Course in Delhi (Duration 3+ months)
4️⃣ BBA Entrance Doubt Classes Course in Delhi (Duration 1+ months)
To know the details of other entrance examinations and our result-oriented coaching classes for CET BBA entrance, you should visit our coaching institute at the earliest.
Our Bachelor of Business Administration; BBA Coaching Centre in Munirka, Delhi:
Study Campus for

BBA Entrance Coaching in South Delhi
F-92, 2nd Floor, Hanuman Complex
Hanuman Market, Near Royal Bakery,
Munirka, New Delhi- 110067
Mobile No. 89-20-18-04-77
Our Other BBA Entrance Coaching Institute Across India:
ANDHERI CENTRE
407/B, Vertex Vikas Building,
Metro Gate Exit # 4,
Above Anupam Stationery,
Andheri (East). Mumbai: 400069
BORIVALI CENTRE
Office No. 04, D Wing,
3rd Floor, GoraGandhi Apartment,
Above Gora Gandhi Hotel, Chandavarkar Lane,
Opposite Borivali (W) Railway Station
THANE CENTRE
401 & 2, Fourth Floor, Krishna Plaza,
Above Krishna Sweets, Next to Ganesh Tower,
Shivaji Path, Opposite Thane
Railway Station (W) 400601
Join Study Campus for BBA Foundation Course, BBA Full Time Course or BBA Crash Course according to your preparation.
BBA Entrance Exam Frequently Asked Questions and Answers (BBA FAQ):
What is the fee for BBA entrance coaching?
BBA entrance fees depend on coaching classes, course duration, and some other facilities, A best BBA entrance fees can range from 10K to 40K. It varies on the coaching institute you choose and the courses offered by them.
Which coaching is best for BBA entrance?
There are lots of coaching centers assisting in the preparation of the BBA entrance exam. Study Campus is one among them with a high success rate.
Which post comes under BBA entrance?
There are lots of job roles after the completion of BBA such as –
Finance manager
Human resource manager
Research and development manager
Business development
Marketing manager
How can I prepare for BBA entrance online?
Join Study Campus's online coaching program for the BBA entrance test for better preparation and the right guidance from experienced faculties.
Is BBA entrance tough?
With the right strategy and guidance, any exam can be cleared with ease. Similarly, one can train under Study Campus' faculties for better performance in exams.
Is coaching necessary for BBA entrance?
It depends on individual capabilities whether coaching is needed or not. It is a great option to enroll in a coaching program for effective preparation.
Which type of BBA is best?
All the courses under bachelors of business administration are very good and according to the interest in subjects, one must choose the bachelors program. 
Is Math compulsory for BBA?
It depends on particular universities whether they demand maths as a compulsory subject at +2 level or not. Schools like NMIMS School of Commerce demands maths as the primary subject to enroll in the school.