Welcome to Study Campus!
Study Campus is one of the best coaching institutions for the coaching of several competitive examinations. One such examination is the MAH MCA CET. You might find several good institutions for MAH MCA CET coaching in Thane, but opting for the right one is very important as the initial preparation process for a candidate is quite vital. We always focus on our services so that each candidate who takes admission in our classes passes with flying colors and has a bright future ahead.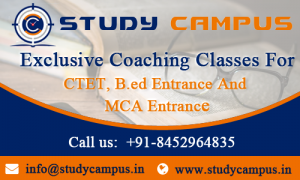 What is meant by MAH MCA CET?
MAH MCA CET stands for Maharastra Masters in Computer Application Common entrance test.
This examination is conducted for the admission to 1st year and 2nd year of MCA.
MAH MCA CET is a state level examination which is conducted by the State CET cell. It is necessary that the aspirants who wish to sit for the examination should fulfill all the eligibility criteria.
It is a computer bases examination that consists of 100 questions and has a duration of 90 minutes. Each correct answer is awarded 2 marks while each incorrect answer has a penalty of 0.5 marks.
Coaching classes for MAH MCA CET in Thane will let you know about the eligibility criteria of the examination. A candidate should have a minimum graduation degree with at least 50% marks.
The price of the form for this examination generally ranges from 800 to 1000 INR for the unreserved category.
About Study Campus
There are various reasons why a candidate should take admission in Study Campus's MAH MCA CET coaching in Thane if the candidate happens to live near or in Thane.
Our classes always focus on a result-oriented approach which benefits the students to crack the examinations.
Rigorous mock tests and weekly tests conducted by our team also prepare the students for the upcoming exams.
Thus, we can say that we are the finest coaching centers for the preparation of the MCA examinations. We have succeeded to entrust faith in our students.
Study Campus Classrooms and Online MAH MCA CET Coaching Classes in Thane (Maharashtra) and Mumbai.
THANE CENTRE (Maharashtra) for MAH MCA Coaching Classes
401 & 2, Fourth Floor, Krishna Plaza,
Above Krishna Sweets, Jan Kalyan
Bank, Next to Ganesh Tower,
Shivaji Path, Opposite Thane
Railway Station (W) 400601
Mobile No. – 79-0000-50-77
Phone No. –  022-41237666