Study Campus is a premium institution that provides the best education and training to the students. It is considered a good platform for the students who wish to make their career in the field of law. We offer Classrooms and Onlne CLAT coaching in Thane (Maharashtra) which helps is one of the most popular and competitive examinations for the law students. Many times we have seen students lose hope once they fail in their exams because of inadequate guidance and mentoring, we try to help such students to fetch their dreams and achieve success.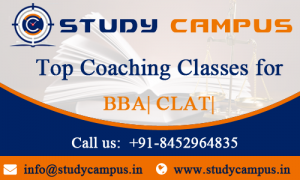 What is CLAT?
CLAT refers to Common Law Admission Test. This examination is conducted on an all India basis by the National Law Universities and some of the popular law schools.
Both undergraduates and postgraduates are admitted to several colleges through this examination.
What is the eligibility criterion for the undergraduate program?
There is no upper age limit as such for the undergraduate program.
To be eligible for the examination one has to have a minimum of 45% marks in their higher secondary examination while the candidates who belong to the unreserved category require 50%.
They should have all the necessary documents which can prove their identity and passing of the higher secondary examination.
For Postgraduate courses, one should have a minimum of 50% and 45% for unreserved and reserved categories respectively in their graduation.
What is the pattern of the examination?
It consists of a total of 200 questions that are objective in nature.
The question paper is divided into five sections which are; English language, elementary mathematics, logical reasoning, current affairs and general knowledge and legal aptitude.
If you enroll yourselves in the coaching classes for CLAT in Thane, you need not worry about the pattern and syllabus of the examination. We are here to guide you through each and every topic so that you can perform your best in the examination. We always focus on a result-oriented teaching methodology. There are many CLAT coaching classes in Thane but choosing the right one is very important as it would ultimately help in building your foundation in the subjects of your examination.
Study Campus is the premier recognized institution that delivers professional career guidance and coaching aptitude to the aspirants looking forward to being proficient in the field of law. We offer CLAT coaching classes in Thane and help the students in gaining excellence in their initial examination countering their admission into the renowned law colleges.
We strive to manage the student's queries regarding their career program by an improved teaching methodology mated with effective study material and regular classroom assignments.
Students from Kalwa, Kalyan come to us for a better career support system offered by our experienced staff and well-researched learning program.
Find the best offline or online CLAT coaching in Thane. Study Campus is the top Law Coaching in Thane.
Join Our Classrooms and Online CLAT Coaching Classes in Thane (Maharashtra) and Mumbai.
LAW ENTRANCE COACHING THANE CENTRE (Maharashtra)
401 & 2, Fourth Floor, Krishna Plaza,
Above Krishna Sweets, Jan Kalyan
Bank, Next to Ganesh Tower,
Shivaji Path, Opposite Thane
Railway Station (W) 400601
Mobile No. – 79-0000-50-77
Phone No. –  022-41237666