Warm regards to you at the heritage institute of STUDY CAMPUS. We take pride in declaring that our coaching center has maintained its legacy of being the number one institute in aiding tutorial classes for the SSC CGL exam with the highest success rate in the nation.
An insight into the SSC CGL exam:
SSC CGL exam or the high rapport Staff Selection Commission is a pan India conducted entrance that recruits staff to ministries, departments and organizations of the Indian Government for various Group A and B posts.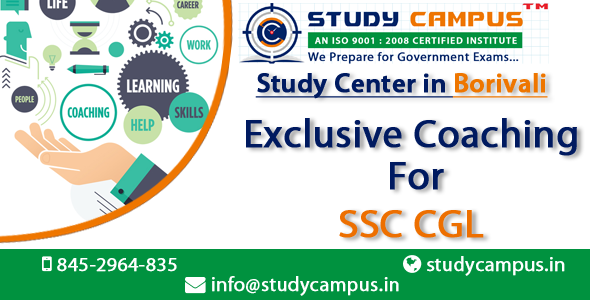 What makes us the national best?
We at SSC CGL Coaching in Borivali make sure we provide our students nothing but the best. In this endeavor, we have made sure we take care of the following concerns:
We have the highest success rate in the whole country.
We offer the best of the curriculum keeping in focus the success goal of the student.
We offer the best of the teaching faculty aiding to conspicuous concept and clearing of the possible queries.
We take an approach of learner-centric teaching aiding to provide logical yet simple tricks of problem-solving to the students.
Proper and timely guidance and evaluation of our students help them grow with time for the final exam.
Aiding online free access to material tour students 24/7.
We not only have students from Borivali but also from neighboring places like that of Kandivali East, Westenrolled with us.  So without any more delay, get the best to attain the best.
Join Study Campus for top SSC CGL Coaching Classes in Borivali, Mumbai, call us today for best result.