Indian Navy is one of the most important parts of the Indian Armed Forces. These are representatives of strength, discipline, honor, and bravery. Indian Navy is known all over the world and is considered to be a white-collar job. It has its standard guidelines and procedures for recruiting young officers to the force who would serve the nation.
Study Campus is among the top institutions for Indian navy coaching in Thane (Classrooms and Online) which are referred to if you want to train yourselves for the examinations. We train our students extensively so that they can acquire the highest ranks in the Indian Navy. We always try to induce a sense of positivity, self-confidence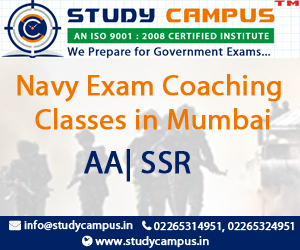 in our students so that they can achieve theirs easily. You will be taught everything relating to the syllabus in the coaching classes for the Indian Navy in Thane.
There are different branches in the Indian Navy. They are; SSR, AA, MR, and Merchant Navy. Each of these officials is recruited for different purposes.
SSR: These are the sailors who are required to control the modern ships, missile destroyers, frigates, aircraft carriers, etc. Join Classrooms and Online Navy SSR coaching in Thane teaches you all the modern techniques which are required to qualify for this examination. To be eligible for this sector, one has to be from 17 to 2 years old with maths and physics as subjects in their 10th class.
Navy AA: AA stands for an artificer apprentice. Responsibilities of a Navy AA mostly include assisting the sailor. He is as responsible as the sailor in controlling the ship. Only male candidates are allowed for this examination between the ages of 17 to 20 years. Navy AA coaching classes in Thane are also conducted by Study Campus.
Navy MR: Navy MR stands for Matric Recruitment. They have the responsibility to look after the food prepared according to the menu which has been decided. You might also be allotted some other tasks. The candidates who wish to apply for this examination should be Class 10th pass. Coaching for Navy MR trains you to pass the examination with full confidence.
Do not delay much and join the coaching classes for Merchant Navy in Thane as soon as possible. We provide training to all the sectors so that students or the aspirants can pass out with flying colors.
Join Study Campus for Classrooms and Online Indian Navy (AA, SR, MR) Coaching Classes in Thane (Maharashtra) and Mumbai.
THANE CENTRE (Maharashtra) for Indian Navy (AA, SR, MR) Coaching Classes
401 & 2, Fourth Floor, Krishna Plaza,
Above Krishna Sweets, Jan Kalyan
Bank, Next to Ganesh Tower,
Shivaji Path, Opposite Thane
Railway Station (W) 400601
Mobile No. – 79-0000-50-77
Phone No. –  022-41237666