Study Campus is considered among the top coaching institutions for Classrooms and Online CTET coaching in Thane. We specializing in preparing students for several teacher training entrance examinations. Best quality coaching is provided by us. We focus on providing a competitive environment so that the students have the urge to work harder each day. If you live in Thane or nearby locations like Mundra, Kalyan, etc, you can join the coaching classes for CTET in Thane.
What is CTET?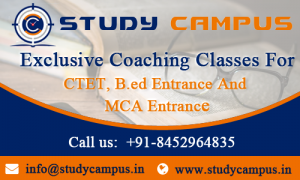 CTET is a necessary examination that needs to be qualified if one wants to work as a teacher in a government organization.
This examination is divided into two parts; Paper 1 is for those to aspire to teach classes 1 to 5 while Paper 2 is for those aspirants who wish to teach classes 6 to 10.
This examination is conducted to become eligible to teach in Kendriya Vidyalaya and other government schools.
A candidate needs to have at least 50 % marks in the higher secondary to sit for the examination.
He or she should at least have 45 % marks in a 2-year diploma in elementary education or 50% marks in Bachelors's in education.
Why we are considered to be the best?
There are many reasons why people choose us for CTET coaching. Some of them are as follows:
We strongly believe in the potential of our students and help them to regain their lost self-confidence. This helps them to study with a healthy and fresh mind.
Our coaching classes for CTET in Thane analyze the weak and the strong sections of the students and prepare them accordingly.
We also offer video lessons to our students wherever necessary and try to complete our syllabus in time.
Regular mock tests and offline tests are conducted which are generally on an all India basis. This is generally done so that students can actually know their rank countrywide.
We have faculty members who mostly have experience of more than 10 years.
Doubt clearing sessions and special classes are also conducted.
Study Campus Classrooms and Online CTET Coaching Classes in Thane (Maharashtra) and Mumbai.
THANE CENTRE (Maharashtra) for CTET Coaching Classes
401 & 2, Fourth Floor, Krishna Plaza,
Above Krishna Sweets, Jan Kalyan
Bank, Next to Ganesh Tower,
Shivaji Path, Opposite Thane
Railway Station (W) 400601
Mobile No. – 79-0000-50-77
Phone No. –  022-41237666