Welcome to Study Campus, the renowned establishment that applied relevant methods of teaching and learning to get the students clear various competitive and entrance exams for a bright future ahead. We offer BBA coaching classes in Andheri Mumbai for the locals and proximal locations such as Vijay Nagar, Ville Parle, Shree Sambhaji Nagar and many more.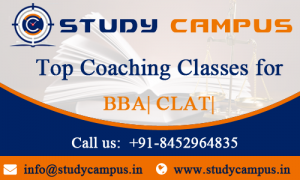 BBA is the undergraduate professional degree course mainly designed for the aspirants who want to explore the growing world of business. The degree lets the aspirants gain knowledge on the basic functionalities of the companies and their interconnecting system. The course is entailed through an entrance exam designed to give the students an opportunity to get into the best of college or university to continue the course.
Our BBA coaching institute in Andheri entails offering high quality and experienced faculty to depart the students with the right source of information countering the entrance exam requirements. The teaching modules and learning patterns are prepared after thorough research and pressure are implied on transferring the precise knowledge to the students to make them competent enough to clear the entrance in the first attempt.
Our expert faculty and preparation system prepares the students to clear off the doubts and obstacles appearing in their route to success.
BBA Entrance Coaching in ANDHERI CENTRE (MUMBAI)
407/B, Vertex Vikas Building,
Metro Gate Exit # 4,
Above Anupam Stationery,
Andheri (East). Mumbai: 400069
Mobile No. – 99-30-47-66-36
Phone No. – 022-4123-7666