Welcome to Study Campus, a destination where you can get solutions to all your problems. If you are in search of Classrooms or Online IBPS Clerk coaching Classes in Thane, then Study Campus is the best institution for you where you will be trained thoroughly for all the stages of examination. We offer individual classes for individual subjects which help in a better understanding of each section. We also teach our students certain tips and tricks which should be implied in the examination to score good marks.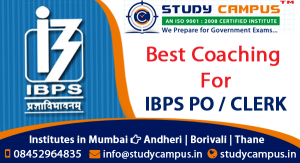 The coaching classes for IBPS clerk in Thane are strategized in such a way that it becomes very easy for the students to grab the things quickly. We also confront the students with the increasing competitiveness of the banking examinations so that they can prepare accordingly from the very beginning.
There are many students from our classes of IBPS clerk coaching in Thane and nearby who have got selected in the first attempt. It is all because of their sheer hard work and the right kind of study materials and training which we provide to our students.
What is IBPS clerk examination?
IBPS is a banking organization that recruits eligible candidates to several posts every year to various public sector banks. IBPS clerk is a clerical level examination.
It is an all India basis examination which is generally conducted in the month of December every year.
IBPS is expected to release around 12000 vacancies this year.
To be eligible for this examination, one has to be a graduate from any recognized university.
They should be proficient in their local language.
To be eligible for IBPS clerk, one should have a basic understanding of the computer application.
The candidate should be at least 20 years of age and not more than 28 years old.
Study Campus is such an institution where result-oriented teaching is our priority. We hire the best faculty members of the town. Most of the educators have cleared the respective examinations are quite thorough with the strategy and the syllabus required to crack the examinations.
Study Campus Classrooms and Online IBPS Clerk Coaching Classes in Thane (Maharashtra) and Mumbai.
THANE CENTRE (Maharashtra) for IBPS Clerk Coaching Classes
401 & 2, Fourth Floor, Krishna Plaza,
Above Krishna Sweets, Jan Kalyan
Bank, Next to Ganesh Tower,
Shivaji Path, Opposite Thane
Railway Station (W) 400601
Mobile No. – 79-0000-50-77
Phone No. –  022-41237666