The Indian Administrative Services (IAS) examination is the toughest examination in India. Students who want to have a lucrative career with a handsome pay and an authoritative designation, usually apply for the IAS examination. Our IAS coaching for Dadar has highly qualified and experienced faculty members that have prepared endless IAS aspirants.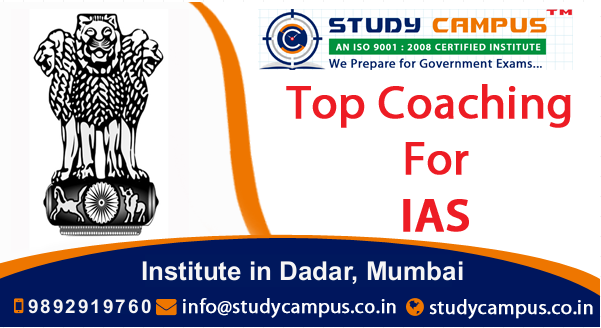 A student has to clear all the different selection stages including the prelims, mains, and the interview to get selected for the applied position. In this national-level competitive examination questions are asked from different areas including History, Geography, Polity, Economy, Environment, General Science, and Current affairs. It requires a lot of efforts and the right guidance to clear the IAS examination.
Our coaching classes for IAS in Dadar, Mumbai have prepared many students and most of them have cleared all the three stages with flying colors. We follow a unique teaching method that ensures each topic is clear to the students. Examinations like the IAS require studying the smart way if one wants to stay a step ahead of the other candidates and we do the same.
There is a limit on the number of times a candidate can apply for the examination, depending on the candidates' caste, so it is necessary that you choose the right preparation centre.
Eligibility Criteria
Physical Criteria- The physical criteria for eligibility of the IPS officer are as follows:
Minimum Height – Men – 165cm Women – 150cm
Relaxable minimum height is 160cm (men) and 145cm (women) for candidates belonging to ST and races such as Gorkhas, Garhwalias, Assamese, Kumaonis, Nagaland Tribals, etc.
Minimum Chest Girth – Men/Women: 84cm 79cm
Myopia (including cylinder) should not exceed minus 4.00D
Hyper myopia (including cylinder) should not exceed plus 4.00D
The presence of Squint is a disqualification
Spectacles are permitted
Distant vision for better eye (Corrected Vision) should be 6/6 or 6/9
Distant vision for the worse eye (Uncorrected Vision) should be 6/12 or 6/9
Near vision should be J1 and J2 respectively
High-grade color vision is required and Binocular vision is needed
Nationality of a candidate must be either of the following:
Citizen of India
Subject of Nepal
Subject of Bhutan
A Tibetan refugee who came to India before January 1, 1962, for permanent settlement in India.
Migrant from any of the following countries for permanently settling in India: Pakistan, Burma, Sri Lanka, East African countries of Kenya, Uganda, the United Republic of Tanzania, Zambia, Malawi, Zaire, Ethiopia, and Vietnam.
Educational Qualification: A candidate must hold a Bachelor's degree from any of the universities recognized by the UGC or possess an equivalent qualification.
Age Limit:
Candidate should fulfill the age limits mentioned below:
Minimum age 21 years
Maximum age 32 years as on 1st of August in the year of examination.
Relaxable age limit is as follows:
Up to max. 5 years for SC/ST candidates.
Up to max. 3 years for OBC candidates.
Up to max. 5 years for a candidate from the State of Jammu & Kashmir
Up to max. 5 years for Defense Services personnel
Up to max. 5 years for Ex-servicemen including Commissioned officers and ECOs/SSCOs who have rendered at least 5 years Military Service and have been released.
Up to max. 5 years for ECOs/SSCOs who have completed an initial period of assignment of 5 years of Military Service.
Up to max. 10 years for Blind, deaf-mute and orthopedically handicapped persons.
Why Choose Us?
The following are a few of the benefits that we offer our students.
Full syllabus coverage
Affordable Fees
Unlimited doubt clearing sessions
Tips and tricks to score more marks
Series of evaluation tests
Comprehensive study material and much more
If you want to get detailed information on our offered courses, then visit our centre today.