Warm regards to you at the heritage institute of STUDY CAMPUS. We are invariably the trailblazer in imparting quality education to aspirants of the CTET exam that is conducted every year nationally. Growing with steady progress we have been able to achieve and maintain our legacy of being the number one institute in preparation of CTET, nationally.
All about CTET EXAM:
CTET or the Central Teacher Eligibility Test is the national entrance test that emphasizes on the proficiency of a teacher fit for different posts in central teaching institutes. This test acts like an ace for those aspirants who see their future in the teaching industry.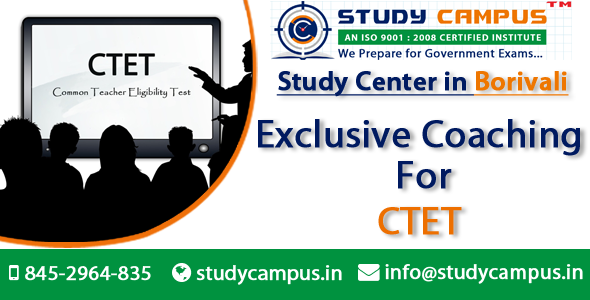 What makes us the national best?
Championing the art of teaching ourselves, we at our CTET Coaching Classes in Borivali make sure that we give back the society their deserving best. Thus, we go on to profit our students in these major following ways:
• The highest rate of success across the nation.
• The best of the teaching faculty to aid quality education.
• Our scientifically crafted curriculum that gives you a sure shot way to success in the exam.
• Conduction of weekly tests for the students to the more precise evaluation of their growth.
• The best of the modern facilities for better assimilation of the students.
• Access to free online tests for students to make the most of the resources.
We not only have students from Borivali but also from Kandivali East & west and nearby enrolled with us. So without any more delay, get the best to attain the best.